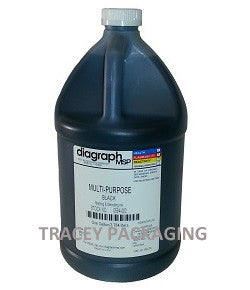 Diagraph Multi-Purpose Black Stencil Ink - Gallon 0594-002 0594002
$134.16
BLACK STENCIL INK FOR MARKING CRATES, CARTONS AND METAL BARRELS
Use Multi-Purpose stencil ink to apply shipping and product info to cartons, crates and barrels. Called MP stencil ink for short, Diagraph Multi-Purpose black stencil ink can be applied with the Rol-It-On stencil roller and ink pad or the HV stencil roller. 
MP stencil ink is CONEG / RoHS and SARA compliant. Low VOCs. No Prop 65 reportable chemicals.
Gallon of Multi-Purpose Black Stencil Ink. Stencil on porous or non-porous surfaces. MP stencil ink is a pigmented ink and must be agitated / shaken before use.
Use with HV roller or Rol-It-On stencil roller and RIO ink pad
Stencil on metal barrels, lumber, crates & pallets, corrugated and concrete
Approx 2 minute dry time
Makes a long lasting mark
Use RIO Conditioner (solvent) to moisten foam ink rollers & ink pads or for clean-up
Flat Stencil Board and Oilboard Roll available
Stock item. Sold in single gallons - no need to purchase the whole case!
Ground shipping only!
Item # 0594-002 – Black Multi-Purpose Stencil Ink – Gallon