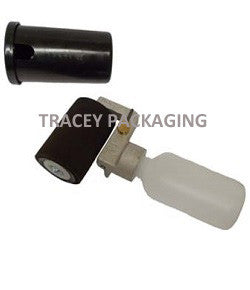 Diagraph HV Stencil Roller Assembly 0603-801 0603801
$118.40 $128.40
SALE!
HV STENCIL ROLLER ASSEMBLY - JUST ADD INK
Refillable HV 3" Stencil Roller Assembly. Diagraph's HV stencil roller provides for easy and efficient stenciling. Refillable 4 oz ink bottle acts as a handle. Because no ink pad is needed with the HV stencil roller, it makes it easy to easy to carry around from one stenciling project to the next. Use with Multi-Purpose or GS stencil ink. Includes frame assembly, foam roller, plastic ink bottle and roller cover.
Ink flow is controlled by a valve-action pump in the assembly. The foam ink roller is actually inked from the inside out. Refill ink bottle as necessary. When using multiple ink colors, we recommend that you have a separate HV stencil roller assembly for each ink color.
Stencil Roller can be used on porous and non-porous surfaces
Stencil on cartons, crates, pallets, lumber, metal barrels and concrete
Roller is 3″ wide and approx 2" diameter
Plastic center of foam roller has 3/8" diameter opening
HV stencil Replacement Rollers, plastic replacement covers and bottles available
Includes stencil roller assembly & roller cover – ink not included
Refillable 4 oz. bottle acts as a handle
Stock item
Item # 0603-801 – 3″ HV Stencil Roller