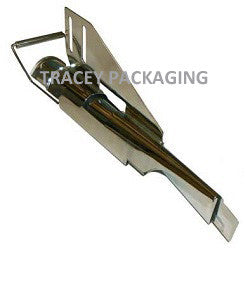 Newlong CM4900-3 Tape Binder GXZ114-3-65
$880.66 $927.01
SALE!
NEWLONG INFEED PARTS
Newlong parts for the CM4900-3 Infeed. The Newlong CM4900-3 infeed is used to close bags containing animal feeds, fertilizer, potatoes, grass seed, chemicals, coal, and wood pellets as well as sifting products such as flour and spices. The infeed is part of a complete bag closing system which also includes a sewing head and a sewing pedestal.
2.5" Tape Binder for Newlong CM4900-3 infeed.
65 mm binder for 2.5" wide crepe tape
Tape Binder guides the crepe tape to fold over the top of the bag before the bag is stitched closed
Old part # CMG4986-65
Not a stock item - please allow a few extra days for shipping
Item # GXZ114-3-65 Tape Binder