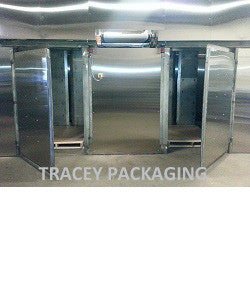 Bag Stacker - Dual Station Palletizer
$187,900.00
BAG STACKER - DUAL STATION PALLETIZER
Fully automatic bag stacker for filling two pallets with bags. Filled bags are brought to the top of the palletizer by a conveyor. Mechanized "fingers" arrange the bags on the pallet layer by layer - all without operator intervention! Two station palletizer stacks bags on one pallet. When that pallet is full, the bag stacker automatically begins filling the second pallet. First pallet is removed while the second pallet is being filled, allowing for uninterrupted production.
Stacked bags may be configured in a number of layouts depending upon bag size, product type and pallet size.
Our palletizing equipment was designed for the small to mid-sized company as an affordable bagging solution. The two station bag stacker is easy to operate and maintain, reduces labor costs and ensures a short return on investment.
This fully automatic bag stacker can accommodate a variety of bagged product such as fertilizer, feed, seed, flour, grain, coal or chemicals.
Custom built machinery. Call Tracey Packaging to discuss the details of your project. 1-800-639-5664.
Dual station bag stacker
Stacks multiple layers of bags
Includes conveyor
Palletizer can handle paper, poly or poly-woven bags
Small footprint - machine requires minimum space
Item # Bag Stacker - Dual Station