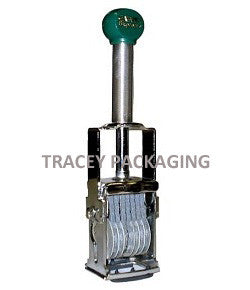 Garvey Price Marker 6-Band Stamper 34228 Layout 28
$24.00 $27.50
SALE!
MARK YOUR PRODUCTS WITH GARVEY BAND STAMPERS
Garvey 6-Band Price Marker with Layout 28. Garvey Supreme Price Marker is a self-inking band stamper with 6 rotating bands. Band stamps can be used for marking prices, date codes or lot codes on products or cartons. Four different Garvey band stamps in stock: 2 different 5-band, a 6-band and a 7-band. See band layout to choose which character band set-up works best for you.
Self inking band stamp. Ink pad is located in the top of the stamper. Price marker head flips up to hit the ink pad, then rotates down to stamp the carton or product. Add ink to the ink pad as needed.
Use band stamper to price code, date code or lot code products
Marks on porous surfaces such as corrugated cartons as well as non-porous plastic containers
Layout 28 has 6 numbering bands – bands rotate to easily change the code
Characters are 3/16″ high
Replacement ink pads and ink pads assemblies available
Garvey price marker is dry / un-inked
Use Garvey XC-36 Conditioner to remove unwanted price marks or to clean the marking bands
Stock item
Item # 34228 6-Band Price Marker Layout 28
Layout 28 – 6-Band Stamper
Band 1: 1 2 3 4 5 6 7 8 9 10 11 12 $
Band 2: 1 2 3 4 5 6 7 8 9 0 . / -
Band 3: 1 2 3 4 5 6 7 8 9 0 . ¢ $
Band 4: 1 2 3 4 5 6 7 8 9 0 . $ +
Band 5: 1 2 3 4 5 6 7 8 9 0 ¢ + 1/2
Band 6: 1 2 3 4 5 6 7 8 9 0 ¢ ¢ Tx